10 Business-y Type Books Everyone Should Read
I'm always shocked when I take a step back and realize that I own a business. I don't feel very business-like, considering I spend most of my day wiping boogers from the walls and typing away at the kitchen table while wearing fuzzy slippers. But my tax lady assures me, that yes: I own a small business.
and I couldn't be happier.
I have spent the past 12 years reading almost all non-fiction— and I seem to be drawn towards books aimed for entrepreneurs. When I first started reading them, I had no idea the path my life would take, but I found the idea of a kitchen-table business quite alluring, and kept checking the same books or audio disks out from the library. Over and over again.
I've read an awful lot of how-to and inspirational books, but the ones on this list are the ones that truly changed the way that I think, and helped me have the guts and determination to succeed, even when I really wanted to just curl up in a ball and hide.
I hope you enjoy them.
Rich Dad, Poor Dad: What The Rich Teach Their Kids About Money that the Poor and Middle Class Do Not!,  by Robert Kiyosaki
This was actually the very first book I ever ordered off of Amazon.com, and I did so after watching Kiyosaki on Oprah. He certainly was a convincing salesman! I've read this book a good dozen times and keep going back to it when I need a pick-me-up. Kiyosaki is to blame (thank?) for my entrepreneurial drive. In this book he describes the difference between a "job" and a "business." Jobs pay the bills, but businesses accumulate wealth, and they aren't necessarily the same thing. It's okay to have a job, but start a side business— whether that's real estate investing (his personal choice), or consulting, mentoring, writing, etc. Kiyosaki is not without his critics; there's an awful lot of people who hold him responsible for the housing crash, and although this book is written as non-fiction, it's actually a parable— Frey wasn't the only person to pull the wool over Oprah's eyes!
The Richest Man in Babylon, by George S. Clason
Speaking of parables… this is a quick, fun read written for all ages. In fact, I'll make sure the kids read this book before they start a summer job. Written in hit-you-over-the-head logic, this book uses short, witty, and inspirational stories to help readers understand the value of money and why you should always, always live beneath your means.
Manifest Your Destiny, by Dr. Wayne Dyer
I read this book in the early 2000s before Dyer was plastered all over every PBS station. My view of him now is more of a salesman than a spiritual leader, but that's not really a fair judgement of the book. The book is good. I've read Dyer's other books, but like this one the best, although I'd probably recommend listening to the audio since it can get a bit rambly. There are definitely spiritual and religious elements in this book — don't read it if you're easily offended by such things. This book, along with Napoleon Hill's, Think and Grow Rich first introduced me to the principles of The Law of Attraction as outlined in The Secret. (here's more of what I think about that…)
21 Success Secrets of Self-Made Millionaires, by Brian Tracy
I actually listened to this on audio cassettes, and then checked the book out from the library because I couldn't keep up with all of the note-taking I did while listening the the audio! If I had to pick one book/audio recording from this list, I'd probably go with this one. Brian Tracy is an accomplished motivational speaker, author, and an amazing salesman. I still run one of the quotes from this list of 21 through my head almost daily to keep my on track with my daily/weekly/monthly goals: The Difference Between Successful People and Unsuccessful People is that the Successful People DO what the Unsuccessful Will Not.
Awaken The Giant Within, by Tony Robbins
Save your Tony Robbins criticism. I've heard it all, and have probably spent too many hours reading message board criticism of the guy. The fact is, he's a fantastic motivator. I don't think he is ground-breaking or revolutionary in the slightest, but boy, can he tell a good story and get you pumped up. Put the audio on in the background while you're folding laundry or doing mindless housework and let the positive energy penetrate your psyche. One of the most valuable things I learned from this book/audio was to live my life as if I was being watched. Don't do things you'd be embarrassed by if caught on film, or if caught by a higher power. Powerful idea.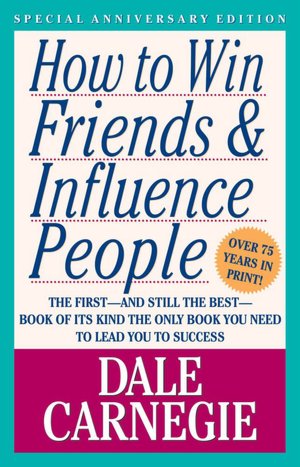 How to Win Friends and Influence People, by Dale Carnegie
15 million people can't be wrong, right? This little book was first released in 1937, and I'm pretty sure every person with a business degree was forced to read it. You should, too. I was raised with the notion that "you should never, ever, ever trust a salesperson. Sales people are slimy, and will get you to do things you don't want to do." Maybe not bad advice for me to pass along to my three daughters… But guess what? We are ALL in sales. You're either selling a product, or you're selling yourself, and you should understand the psychology of the sale — regardless of your views. There are free copies of this book floating around the internet; a simple google search will find you a PDF.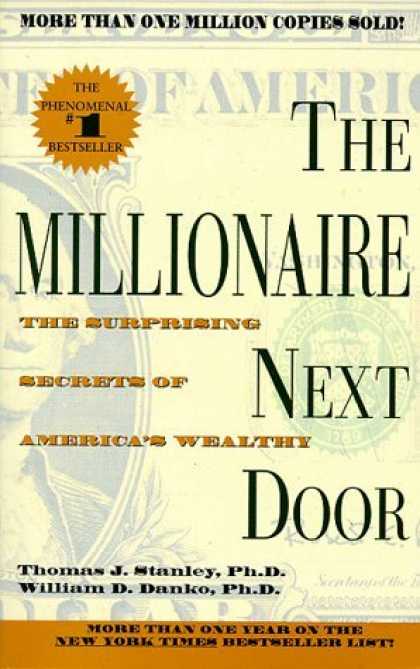 The Millionaire Next Door: The Surprising Secrets of America's Wealthy, by Thomas Stanley
We hear a lot about the 1%, and most of us have visions of people living large: yachts, lavish vacations, live-in help, and gold-plated bathtubs. Oh wait, maybe that's MTV Cribs. I am fortunate to have read Stanley's book as a newlywed and it opened my eyes to the fact that although many of my neighbors appeared to have money, they probably didn't, and were instead living beyond their means. Stanley shares research and personal stories of millionaires— many of whom you've never heard of, who are not flashy, but actually quite frugal. And that's how they became millionaires!
The 4-Hour Work Week, by Tim Ferris
Tim Ferris is a blogger, so I was drawn to his book. This is the most recent book that I've read that I feel comfortable recommending, and the most up-to-date in regards to online businesses and social media. I agree with much of what he's written, although I'd argue that in the beginning few years of starting something online you must "feed it" regularly or it'll die. Once you're established, you can slack off, but only then. This is a valuable investment solely for the list of resources— it's a great crash course on internet and direct sales marketing. P.S.: not a fan of the 4-hour body.
The Martha Rules: 10 Essentials for Achieving Success as You Start, Build, or Manage a Business, by Martha Stewart
This is a super quick read— I read it in the backyard while the kids were in the wading pool. It's pretty basic, and consists of a lot of personal anecdotes. Stewart wrote it while in jail, and she also taught this information to the other inmates while fulfilling her sentence. No one can argue that she's a powerhouse, and that she has found a way to climb every ladder pushed in her way. I look forward to hearing her speak at BlogHer 2012 in August.
Nonfiction Book Proposals Anybody Can Write, by Elizabeth Lyon
I can't count how many times I've recommended this book. I've read dozens of "how to get published" books, and prefer this to any others— it's clear, it has examples, and it works. I used this book to write my first query letter, and to write all of my book proposals. It lines out how to hook your agent/editor quickly, and how to outline your book idea and clearly define your target audience. Because it's an older book, she doesn't go into the importance of having an online and social media presence, but there are many free resources online that will help build that part of your platform.
So there you go! Get to work!
any favorites you'd add to this list?