This is another installment in my The Business of Blogging Series.
I have been blogging full-time since 2008, and have been hesitant to share my successes "out loud" with very many people because I worry about 1) jinxing it and 2) being show-offy
and I'm not a show-offy person, and I worry a lot about karma and good will and even feng shui.
But I've gotten to thinking about why I do what I do and why I started what I started. And honestly, I just like helping people. Specifically other moms.
I wrote the proposal for the Totally Together Journal way back in 2004 (I was pregnant with my second). I wanted a way to help other mothers, and thought I could be of service in some way. It took YEARS to get that book to the market.
In the mean time, I started the slow cooking site, and wrote the corresponding cookbooks. The very best part of my day is waking up to Thank You emails and tweets. I love that I can somehow help other busy families get healthy, satisfying, budget -friendly (and gluten free, to boot!) meals on the table. I am proud of that.
I worry sometimes about being too proud. I worry about being a braggart, and I worry that others will feel that my success isn't warranted or that somebody handed me something. I worry that someone, somewhere will think that I must "know someone" and that's how I got on tv or got book deals, or how I get a lot of people to my website.
and so I don't talk about my achievements.
or yet I haven't, much.
I spent last Saturday in Los Angeles with Adam. We flew in so I could speak at the Latina Lifestyle Blogging Convention about Ethics and Blogging (they knew I'm Scottish…!).
And I realized, I know an awful lot about blogging. An awful lot. I've learned through trial and error and have been very lucky in my blogging and social media endeavors.
And I figured that EVERYBODY who has blogged for as long as I have has achieved similar results, and am finding out (through talking to friends/acquaintances) that this is not the case.
I make over 100k directly from my websites.
and I do this all, from home, in my pajamas, while I care for my children.
And it's not that hard.
This post is titled PATIENCE. Because I truly believe that ANYONE, ANYWHERE can have this level of success if they map out a business plan and are patient. The money is out there. The opportunities are out there.
Don't worry about what so-and-so is doing. Don't compare your site to anyone else's. Learn how to write for SEO and give your readers what they want.
I want to help —- my hope is that I can somehow help other people/moms create additional streams of income for their family's budget.
I feel incredibly fortunate to be living the life I am living, and I would like to help. If you have questions about future installments for this series, please let me know in the comments below. I've finally gotten the green light from Adam to talk candidly (sort of. LOL) and I would really like to offer any help I can. oxox steph
OH! and I should probably explain the above photo of the grape vine. I planted that vine 4 years ago, and the leaves promptly all fell off. I kept watering and fertilizing it even though it looked like a dead stick. For 4 years. And this spring? Not only are there leaves, there are teensy tiny grape bundles! Patience. It's a virtue! :-0
This is part of the Business of Blogging series.
Part 1: The Business of Blogging
Part 2: Figuring Out Your Internet Voice
Part 3: Writing for Search Engines Doesn't Mean Selling Your Soul
Part 4: Is Self-Esteem Tied into Sitemeter?
Part 5: Patience, and Other Blogging Virtues
and other stuff:
Creating a (non-cheesy) Vision Board
Working from Home with Small Children in the House

We're approaching the end of February. Do you know where your New Year Resolutions are?
I've gotten pretty good at making and keeping my resolutions each new year — and while it's still not super easy for me to stay on track, each and every year I have a bit more resolve to keep on course.
It doesn't matter that we're near the end of February — there is still plenty of time to get your new year goals and resolutions back on track. If you've fallen off the wagon, here are some tips to climb back in it and buckle up; there's a long road ahead until the end of the year.
If you haven't made any new year resolutions or goals for 2013, or don't like to because you don't think that's "your thing" — okay. But you also can't change for the better in any way unless you make the conscious decision to do so. And regardless of your personal journey or path, I believe we all could do a bit better each year.
This is it.
You're not going to get today back again, and it's okay to want tomorrow to be slightly better.
How to make New Year Resolutions that You'll Keep:
1) Write it down. This is such a simple step, yet the majority of people don't do it. Yes, there are plenty of people who have stuck to their resolve to lose weight or get out of debt by not writing down their goals, but if you DO write it down you have a greater chance of success. And who are we to fool around with statistics? If it feels hokey, don't worry about it. You don't have to share what you've written down to anybody — just keep it in a notebook or folded up in your purse.
2) Tell Someone. I know. In suggestion number 1 I said you don't have to share your written resolution or goal list with anyone and now I'm telling you to tell someone else your personal wishes and dreams. I promise I'm not losing my mind— you still don't have to share your written out list, but you DO have to share what you're working on.
Accountability to someone else is a much stronger motivational drive than an intrinsic one. This means that you are more likely to disappoint yourself than you are someone else. That's just how human nature is. We are also much more forgiving to others than we are to ourselves —- so if you veer off track, having a supportive someone in your corner is just who you'll need to confide in and who can help you retain confidence.
This is what I did with the slow cooker site, and what Jen did with her cocktail site. We told the Internet — it's a pretty big group to be held accountable to!
3) Review your resolutions every single day. However you do this is up to you. You can pull out your list of goals, or rewrite them every morning. Some people have excellent results by writing their resolutions out as if they have already happened. For instance, if your goal is to lose those final last ten pounds, you might start your day by thinking about  how thankful you are that you can fit into the dress hanging in the closet. You can go a step further and visualize  yourself wearing it and hear in your head all the complements you'll get from your friends.
I have a vision board. I make a new one every year, and I keep it in the bathroom. It's personal, and I have sayings and quotes, and magazine cutouts on it. I only share it with Adam, and even he kind of rolls his eyes a bit at how particular some of my visions (picture cutouts) are. But that's okay. Because my vision board makes me smile and keeps me focused on what it is I'm working towards —  I look at it quite a few times a day, and somedays it spurs me on to take action on a certain writing assignment or to go do a few pushups. Other days I just zone out. I've decided to believe that even on my zone out days my subconscious is working on something.
4) Pretend you've already succeeded. Or fake it till you make it. This might seem phony at first, but you'll get used to it in practice. If your New year's Resolution was to work out every morning, act like a person who works out every morning. What time does that person wake up? What does she wear? Does she sleep in her workout clothes and works out before getting dressed for the day? What does she eat? Do you need different food in the house?
If your resolution was to write every day on your All American Novel, start acting like a novelist. What does a novelist do? Does she get up before everyone else in the house and write for an hour? Does she have a set of index cards with character names and traits? Does she spend 3 hours a day surfing facebook or pinterest, or does she buckle down and work?
5) Reward yourself. This doesn't need to be elaborate, nor does it need to be expensive, but you have to find a way to celebrate the tiny steps and milestones along the way. Day to Day life is hard enough as it is — trying to change or adapt is even harder, even if you know it's for the better.
Human nature is to find the easiest and least resistant path. It's easier to lay around on the couch than it is to lace up your shoes and go for a walk. So reward yourself. Walk to the grocery store and after making a few laps get yourself a pack of sugarless gum. If you've gotten through the entire day without yelling at the kids, take a bath. Paint your toes. Do something just for  you that's a reward. And there is no harm in using the reward as motivation to keep to your goals — "if I don't use my credit card but instead pay it off, I can use the extra savings in our vacation fund."
I'm sure you see what I mean.
You don't have to be in the first week of January to decide to be a New You. Or a Newer Version of You.
You can do this. I know you can.
and it's not too late.
It's never too late to accomplish anything you put your mind to.
xoxoox
I've been working from home, for myself, for the past 4 years. When I first began working from home, I had a contract for Bay Area Parent magazine and BlogHerads. This meant I had set hours and a set list of tasks I needed to accomplish on a daily basis in order to get paid.
Now I work solely for myself — I run the websites and I write books. I LOVE what I do, but because I don't really have a "boss" I find that I spend more time procrastinating and fiddling around online or pacing the house thinking about work than I actually do working.
This hasn't been too much of a problem for me; I've never missed a deadline, and so far (knock wood) I feel happy with the ebb and flow of our days, even if there isn't an actual set schedule.
But I also sometimes feel like a kindergartener doing an adult's job. And when I'm asked by readers how I go about organizing my work day, I sometimes don't have a very clear answer.
and that's not good.
So I've decided to pay attention to what I do when I'm on a deadline — because as we all know, deadlines are really the only way to get things done. Here are the tips and tricks I use when I need to ACTUALLY GET THINGS DONE.
(but on the days I don't need to actually get things done? I procrastinate. It's human nature, and I've found it's best to just not fight it, but instead embrace it, and move on to the next day. We can't always be on task 24/7. This is real life, not a how-to book or magazine article.)
1) Print out a 5am to 9pm daily schedule
2) Fill it out —- fill out every slot, if you can. Write in waking the kids up, making breakfast, lunches, getting them out the door, etc. If you have little ones at home with you, schedule in outdoor play time and wear them out so you can then (hopefully) count on nap time so you can get some work done
3) Schedule business calls during nap time.  If this isn't possible, schedule them during times where you know the littles will be happy and can be occupied with a movie/favorite TV show. Try to let unscheduled calls go to voice mail — your clients will quickly learn that you need them scheduled.
4) When on calls with kids awake, have a full-on snack prepared, sippy cups filled; etc. I usually do microwave popcorn and apple slices, and a juice-box. My kids don't get juice boxes very often, so they are a treat. I start the TV show right before getting on the call, or press "play" right as I'm dialing the phone
5) Take phone calls out of sight from the kids — in a closed bedroom, or the backyard or the garage. Usually with kids over the age of 2.5 or so, they are safe watching TV and if mom is out of sight, she's out of mind (of course use your best judgment, etc. etc.; you know your kids best).
6) Always inform whomever you're on the phone with that you are working from home today with small children and you'll need to keep the call under 20 minutes (or whatever).
7) If you have to write a report or have quiet "thinking time," I suggest working when you can be fully off-duty as a parent. If you have childcare help, or the kids are at school, use that time. If not, I suggest using the early morning or late night hours, depending on your own personal biological clock.
for me, I'm much more focused early in the morning. When I've got a deadline for a writing assignment, I set an alarm and get up at 4 or 4:30 am. It's just me and the coffee pot, and I can crank out a good amount of work before Adam's alarm goes off at 6am. When I wrote for Bay Area Parent, I regularly worked what I called "the split-shift." I went to bed at 8pm with the kids, then set an alarm and worked from 12-4am; then went back to bed until 7am when the kids got up. It may not be a long-term solution, but it definitely works if you're in a pinch.
and let's face it. You're working from home. You're in a much better position than many, many working people, and there's no need to complain. You've got to do what you've got to do.
Life is good.
8 ) There is no End to the work day. I don't care how many work-from-home books there are that tout putting away the computer or the phone or the book at 6pm to fully "unplug" and be present with your family. It just doesn't exist when you work from home and are also in charge of the family. There will always be more to do — and there's no need to make yourself feel guilty for checking email while you walk through the living room, or stop to answer a call if it rings during Jeopardy. You are home. You are lucky. Don't make arbitrary rules for yourself that you have no intention of keeping.
That said, don't be obnoxious. Don't be the person on her iPhone during the Saturday morning soccer games or text during church. Don't put the phone next to your dinner plate, or use it in a restaurant. If the kids are talking to you, close the laptop and pay attention. Yes, you're "always on" but you're not a neurosurgeon. Get over yourself.
9) Enlist help. One of the cool things about working from home is that I can pop in a load of laundry in between tasks, and go outside and weed during a conference call. I love that I have this flexibility, but there are times when I just can't do anything more than put out fires online, or over the phone. I expect my kids to do their chores, and I expect that my husband help out, too. We follow the Daily 7 as a family, we have regular Family Meetings, and the kids each have a chore chart. If this isn't an option for you, then hire help.
Don't try to do every last thing yourself. Not only is it not healthy for you, you're not being a good role model for your kids.
I feel incredibly fortunate that I have this opportunity to provide an income for our family while being the full-time caregiver to our children. It's not something I planned — but I couldn't be happier.
I'm always shocked when I take a step back and realize that I own a business. I don't feel very business-like, considering I spend most of my day wiping boogers from the walls and typing away at the kitchen table while wearing fuzzy slippers. But my tax lady assures me, that yes: I own a small business.
and I couldn't be happier.
I have spent the past 12 years reading almost all non-fiction— and I seem to be drawn towards books aimed for entrepreneurs. When I first started reading them, I had no idea the path my life would take, but I found the idea of a kitchen-table business quite alluring, and kept checking the same books or audio disks out from the library. Over and over again.
I've read an awful lot of how-to and inspirational books, but the ones on this list are the ones that truly changed the way that I think, and helped me have the guts and determination to succeed, even when I really wanted to just curl up in a ball and hide.
I hope you enjoy them.
Rich Dad, Poor Dad: What The Rich Teach Their Kids About Money that the Poor and Middle Class Do Not!,  by Robert Kiyosaki
This was actually the very first book I ever ordered off of Amazon.com, and I did so after watching Kiyosaki on Oprah. He certainly was a convincing salesman! I've read this book a good dozen times and keep going back to it when I need a pick-me-up. Kiyosaki is to blame (thank?) for my entrepreneurial drive. In this book he describes the difference between a "job" and a "business." Jobs pay the bills, but businesses accumulate wealth, and they aren't necessarily the same thing. It's okay to have a job, but start a side business— whether that's real estate investing (his personal choice), or consulting, mentoring, writing, etc. Kiyosaki is not without his critics; there's an awful lot of people who hold him responsible for the housing crash, and although this book is written as non-fiction, it's actually a parable— Frey wasn't the only person to pull the wool over Oprah's eyes!
The Richest Man in Babylon, by George S. Clason
Speaking of parables… this is a quick, fun read written for all ages. In fact, I'll make sure the kids read this book before they start a summer job. Written in hit-you-over-the-head logic, this book uses short, witty, and inspirational stories to help readers understand the value of money and why you should always, always live beneath your means.
Manifest Your Destiny, by Dr. Wayne Dyer
I read this book in the early 2000s before Dyer was plastered all over every PBS station. My view of him now is more of a salesman than a spiritual leader, but that's not really a fair judgement of the book. The book is good. I've read Dyer's other books, but like this one the best, although I'd probably recommend listening to the audio since it can get a bit rambly. There are definitely spiritual and religious elements in this book — don't read it if you're easily offended by such things. This book, along with Napoleon Hill's, Think and Grow Rich first introduced me to the principles of The Law of Attraction as outlined in The Secret. (here's more of what I think about that…)
21 Success Secrets of Self-Made Millionaires, by Brian Tracy
I actually listened to this on audio cassettes, and then checked the book out from the library because I couldn't keep up with all of the note-taking I did while listening the the audio! If I had to pick one book/audio recording from this list, I'd probably go with this one. Brian Tracy is an accomplished motivational speaker, author, and an amazing salesman. I still run one of the quotes from this list of 21 through my head almost daily to keep my on track with my daily/weekly/monthly goals: The Difference Between Successful People and Unsuccessful People is that the Successful People DO what the Unsuccessful Will Not.
Awaken The Giant Within, by Tony Robbins
Save your Tony Robbins criticism. I've heard it all, and have probably spent too many hours reading message board criticism of the guy. The fact is, he's a fantastic motivator. I don't think he is ground-breaking or revolutionary in the slightest, but boy, can he tell a good story and get you pumped up. Put the audio on in the background while you're folding laundry or doing mindless housework and let the positive energy penetrate your psyche. One of the most valuable things I learned from this book/audio was to live my life as if I was being watched. Don't do things you'd be embarrassed by if caught on film, or if caught by a higher power. Powerful idea.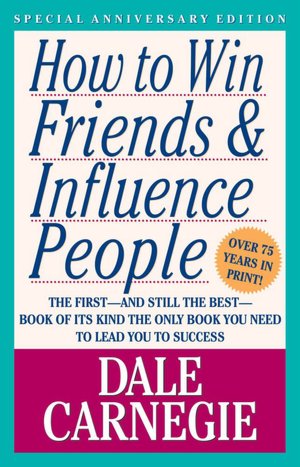 How to Win Friends and Influence People, by Dale Carnegie
15 million people can't be wrong, right? This little book was first released in 1937, and I'm pretty sure every person with a business degree was forced to read it. You should, too. I was raised with the notion that "you should never, ever, ever trust a salesperson. Sales people are slimy, and will get you to do things you don't want to do." Maybe not bad advice for me to pass along to my three daughters… But guess what? We are ALL in sales. You're either selling a product, or you're selling yourself, and you should understand the psychology of the sale — regardless of your views. There are free copies of this book floating around the internet; a simple google search will find you a PDF.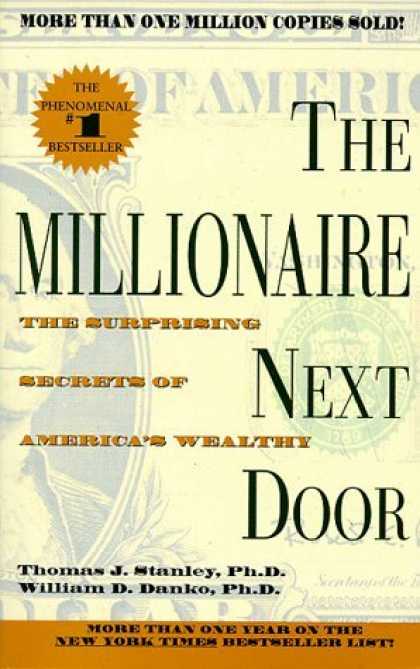 The Millionaire Next Door: The Surprising Secrets of America's Wealthy, by Thomas Stanley
We hear a lot about the 1%, and most of us have visions of people living large: yachts, lavish vacations, live-in help, and gold-plated bathtubs. Oh wait, maybe that's MTV Cribs. I am fortunate to have read Stanley's book as a newlywed and it opened my eyes to the fact that although many of my neighbors appeared to have money, they probably didn't, and were instead living beyond their means. Stanley shares research and personal stories of millionaires— many of whom you've never heard of, who are not flashy, but actually quite frugal. And that's how they became millionaires!
The 4-Hour Work Week, by Tim Ferris
Tim Ferris is a blogger, so I was drawn to his book. This is the most recent book that I've read that I feel comfortable recommending, and the most up-to-date in regards to online businesses and social media. I agree with much of what he's written, although I'd argue that in the beginning few years of starting something online you must "feed it" regularly or it'll die. Once you're established, you can slack off, but only then. This is a valuable investment solely for the list of resources— it's a great crash course on internet and direct sales marketing. P.S.: not a fan of the 4-hour body.
The Martha Rules: 10 Essentials for Achieving Success as You Start, Build, or Manage a Business, by Martha Stewart
This is a super quick read— I read it in the backyard while the kids were in the wading pool. It's pretty basic, and consists of a lot of personal anecdotes. Stewart wrote it while in jail, and she also taught this information to the other inmates while fulfilling her sentence. No one can argue that she's a powerhouse, and that she has found a way to climb every ladder pushed in her way. I look forward to hearing her speak at BlogHer 2012 in August.
Nonfiction Book Proposals Anybody Can Write, by Elizabeth Lyon
I can't count how many times I've recommended this book. I've read dozens of "how to get published" books, and prefer this to any others— it's clear, it has examples, and it works. I used this book to write my first query letter, and to write all of my book proposals. It lines out how to hook your agent/editor quickly, and how to outline your book idea and clearly define your target audience. Because it's an older book, she doesn't go into the importance of having an online and social media presence, but there are many free resources online that will help build that part of your platform.
So there you go! Get to work!
any favorites you'd add to this list?